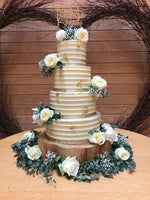 Wedding Cakes by Charlotte Jane Cakes
Charlotte Jane Cakes Limited was established in 2011 to design bespoke cakes to order. Their celebration cakes includes a range of bespoke luxury wedding cakes and confections for clients in the South of England from Cornwall to London.
Individually baked using traditional artisan methods and the very best local ingredients,  Charlotte Jane Cakes make cakes following many of the new cake trends especially naked and semi-naked wedding cakes.
Consultations are available by Appointment Only at Charlotte Jane Cakes, Oxford or via zoom call. Lasting about an hour Charlotte will design a bespoke wedding cake for you including your design ideas. Wedding cake sample boxes can be purchased in our online shop.
To see more of our recent designs look at the bottom of this page for a small gallery of wedding cakes.
To arrange a consultation call Charlotte on 01865 326164 or 07817 397070.
Artisan Fudge
All our fudge is handmade by Charlotte using the best ingredients and traditional artisan methods. She makes it in her own kitchen in small batches and then wraps it in tissue paper and packages it in little pretty boxes ready to post.
Each batch of traditional fudge is stirred on the hob for over an hour to get the right texture. It is like a Scottish tablet, but Charlotte has adapted the recipe to make it her own.
All the pressed flowers we use are British grown, bought fresh and then we hand press them to add to our signature floral fudge.
Our fudge is now available for either a one off purchase or you might like to take advantage of a 15% discount if you subscribe to our fudge fix getting a box of fudge automatically delivered every month for 12 months.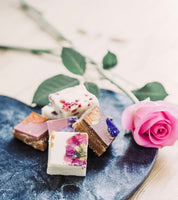 Wedding Cake Sample Boxes by post
Charlotte Jane Cakes luxury wedding cake sample boxes contain our most popular 5 wedding cake flavours and are delivered directly to your home. They are available to buy now in the online shop for £25 and are despatched within 24 hours of purchase.
We are currently offering a £25 off voucher towards a tiered wedding cake with each box purchased (valid for 12 months).
We would recommend ordering these prior to a wedding cake consultation.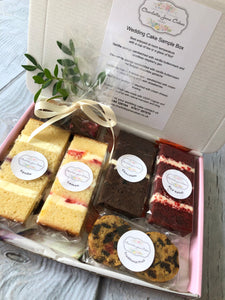 Cake Decorating Classes in Oxford Fun, friendly and fabulous cake classes for adults and children
All Workshops and Masterclasses are taught by Charlotte at her cake studio on the outskirts of Oxford. Classes include tea/coffee/soft drinks throughout, all ingredients and equipment and of course, the amazing cakes you will produce to take home. You simply need to bring your apron and a packed lunch (for all day courses), and be ready to learn and have fun!
GIFT VOUCHERS are available online in our shop for all courses (valid for 12 months). Once you get your gift voucher simply call Charlotte to arrange a suitable date for your course. Weekday and weekend dates are available throughout the year.
CLASS DATES AVAILABLE FOR AUTUMN 2023
Cupcake Workshop 10am-noon
Mon 30 Oct (only 2 spaces left), Sun 10 Dec (Christmas themed)
Cupcake Masterclass 10am-1pm
Tues 19 Sept, Sat 14 Oct (SOLD OUT), Sun 15 Oct (new date)
Thurs 19 Oct, Weds 8 Nov (SOLD OUT), Sat 9 Dec (Christmas themed)
Cookie Decoration Workshop 3pm-6pm
Mon 30 Oct, Sat 9 Dec (Christmas themed)
Cake Decorating Masterclass 10am-2pm
Fri 13 Oct, Tues 31 Oct, Wed 22 Nov
Ganache Masterclass 10am-3pm
Weds 27 Sept, Tues 21 Nov
Wedding Cake Masterclass 10am-5pm
Tues 26 Sept, Tues 7 Nov
Christmas Cake Masterclass
Friday 8 December 2023 10am-1pm or 3pm-6pm
Sunday 10 December 2023 3pm-6pm