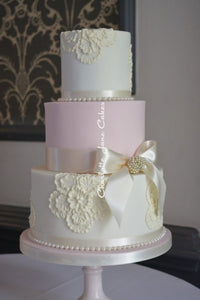 This all day masterclass will teach you some of the latest contemporary cake decorating techniques.
Charlotte will teach you how to use chocolate ganache to sandwich layers of cake. You will then use chocolate ganache to achieve sharp edges on your cake, along with super straight sides. You will learn the techniques of covering your cake with fondant icing and achieving sharp edges. You will work on 2 real cakes and then cover a cake dummy to achieve a 3 tier cake. There will also be time to make some simple sugar craft decorations to finish your cake. You will be taught the secrets of stacking your cakes and also how to transport them safely in your car.
This is a small class of no more than 2 people where you will have individual tutoring by Charlotte.
Everything is provided, including tea/coffee and home made cake. All you need to bring along with you is an apron and a sandwich for your lunch!
Each person will leave with boxes containing their finished 3 tier cake.
Perfect for intermediate or advanced bakers.
All master classes are held at Charlotte Jane Cakes HQ, Oxford. The address will be given to you as soon as you have confirmed your booking.
Gift Voucher is valid for 12 months
£280 per person
10.00am-5.00pm
Upcoming class dates
Tuesday 26 September 2023
Tuesday 7 November 2023
To book Call Charlotte on 01865 326164 or 07817 397070